Products and Insight for Leading Edge Mechanical and Plumbing Contracting
Generating powerful branding, product awareness, and lead generation for marketers wanting to connect with professionals who are purchasing, installing, and maintaining plumbing, mechanical, and fire protection systems.
Average Monthly Page Views
Repair & Replacement

88%

88%

Service

73%

73%

New Construction

64%

64%

Modernization/Alteration

62%

62%

Design/Build Contracting

36%

36%
Commercial/Light Commercial

78%

78%

Residential: 1-3 Dwelling Units

77%

77%

Residential: 4 or More Dwelling Units

44%

44%

Industrial

37%

37%

Institutional

29%

29%
CONTRACTOR leverages a variety of popular channels to engage plumbing and mechanical professionals on need-to-know topics — creating a contextually relevant and optimized environment for supporting marketing initiatives including branding and awareness, building pipeline, and generating high-quality leads.  Explore our channels.
Audience Engagement Report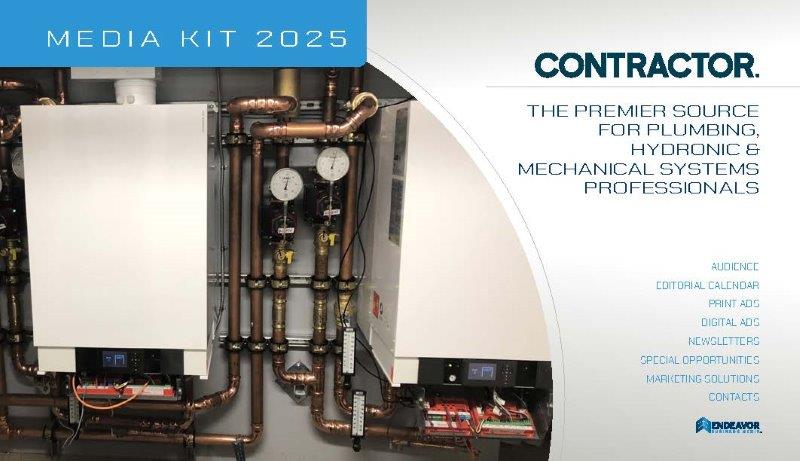 Media Kit
Comprehensive overview of the market, target audiences, content coverage, and our complete suite of capabilities, all strategically designed to assist marketers in achieving their goals.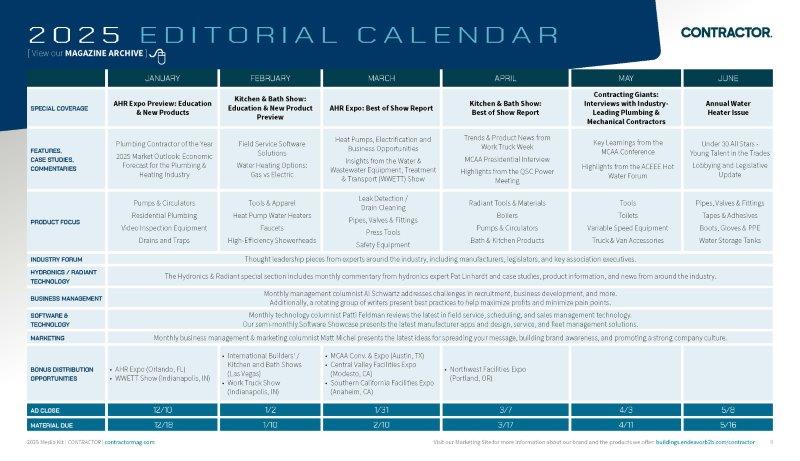 Editorial Calendar
Overview of key focus areas, editorial coverage, and distribution channels [included in media kit download as well].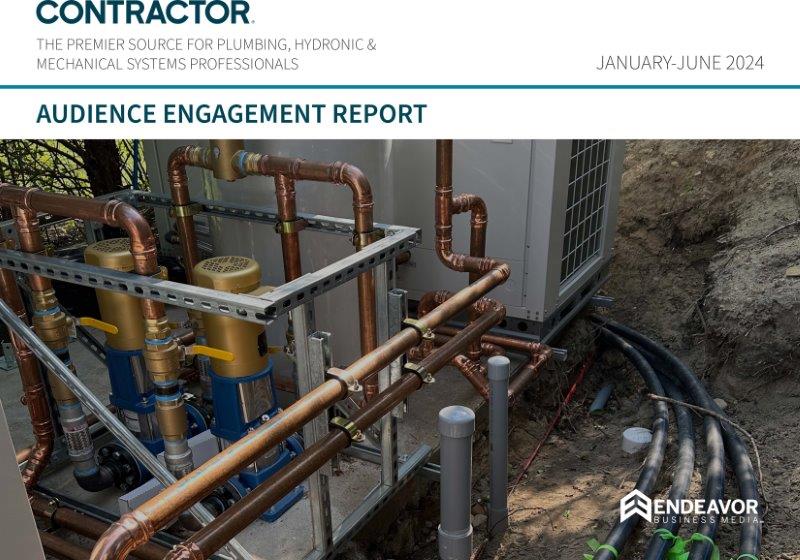 Audience Engagement Report
In-depth report featuring audience insights, demographics, trending content, and circulation.
Digital Ad Specifications
Specifications for digital advertising including display banners, rich media, audience extension, native advertising, newsletters, and 3rd party email.
Powerful options for reaching target audiences, including display, newsletters, native, magazines, and data-driven opportunities.
Full-service content marketing partner delivering a team of SME's, designers, writers, content marketing, and engagement experts.
Solutions for personalization, enhanced experiences, optimized campaigns, and targeting based on data and behavioral insights.
Strategies for engaging audiences and generating leads that are more likely to convert into loyal customers and drive long-term success.
Development, data analysis, and market intelligence for making informed decisions, developing strategies, and maximizing impact.
Proven techniques, popular platforms, and design services for creating engaging and powerful content that resonates with target audiences.
Stay in the know and sign up to receive information on the latest happenings and marketing opportunities from CONTRACTOR.